I've been listening to the Young Thug project a lot, it feels more structured than previous projects. Thoroughly enjoying some of the moments on it and overall I think it is a lot better than Jeffery. I also still have the Chief Keef mixtape in rotation, although many people will write him off due to lack of lyricism. Thot Breaker has a lot of tracks with a Caribbean/dancehall feel, similar to Drake's incorporation of this sound. I also downloaded a new mixtape by Domo Genesis, Red Corolla. With the 2 Chainz album, Big Boi album and more coming out so recently I thought this might fly under the radar so I will be reviewing it below.
I first started following Domo Genesis back in 2011 when Tyler, the Creator and the rest of Odd Future were gaining popularity. I listened to a few songs here and there and downloaded his 2016 album Genesis. The album was average, too many features and not a lot of stand out tracks with replayability.
Domo Genesis – The Red Corolla Review
The Red Corolla – Intro brings us in with this slowed down male vocal sample over a lo fi beat. The song is short with one continuous stream of consciousness from Domo and no chorus. Most of the lyrics are reminiscing about older days and being broke, struggling and trying to make it through life. At the end of the song Domo is trying to start the Red Corolla and yelling at his mom about the car not starting, which it eventually does. I love how this brings us into the concept of the mixtape, the sample becomes clear and it sounds like the type of song you'd imagine in an old car radio. The mixtape appears to be about driving through a day/night doing various things in the Red Corolla.
Vintage Doms – Chilled out ethereal beat, Domo flows over the beat for about a minute and then there is some dialogue where he calls up his homie to pick him up in the car. He continues flowing through the second verse and then picks up his friends. The vibe of the song along with the sound effects of the car and doors being opened and closed makes one think of cruising around on a summer night. The song ends with dialogue between friends in the car and a quiet "chicken nugget head ass" as the dialogue fades out over the car engine.
Deez Nuts – Don't like this song as much, beat is okay and rapping is pretty run of the mill.
…Time Goes By – This is a smoke song but there is this eerie paranoia to the beat caused by the inclusion of bells that sound like they belong to a clock. There are some good one liners, such as "Back when my pockets was on Hector Zeroni" (that is a Holes reference. The song ends with Domo tweaking and turning down a one way street while high with his friends as they approach a party.
Honestly, Just Wanna Have a Good Time – I like this song, there is an upbeat King Chip feature and some high energy rhymes and then the entire track bottoms out and a slow piano comes in with a slowed down flow from Domo. Eventually the downward spiral stops and Domo says he isn't feeling the vibe and has to get away from the party. This does a good job of capturing that moment at a party where you look around and realize you aren't having fun and ask yourself why you're there in the first place.
Overthinking – Domo is on the chorus, which is fairly average, Styles P feature for both verses. Styles P is good but this is not a standout track.
Self Doubt The Interlude – Trippy beat with pitched down vocals vaguely about depression and weed. Short and sets a somber mood, at the end of the song a friend calls up Domo to make some money by making music.
What It Means – Seems like the pursuit of money has cured Domo's depression. Somewhat upbeat boom bap beat with a great violin(?) sample in the chorus. Outro samples Dying to Live, which was also famously sampled in 2Pac's posthumous Runnin' featuring a posthumous Biggie verse.
Slow Burn – Weed song, Domo is back on top of things, great flows.
Long Way Home – Another cruising in the whip song, a little somber and introspective with a long outro sounding like were tuning out of the red corolla's radio station.
Overall I thought this was a really solid mixtape from Domo, I liked it a lot more than the last release I downloaded from him (Genesis). I really love the concept of a night in the car and how it connects to Domo's experiences while giving the listener a "fly on the wall" quality. I think the concept could have been explored a little better, it felt like a couple of songs were thrown in as filler and there wasn't really a clear direction or resolution to the trip. The production is where this mixtape shines, I can imagine Curren$y flowing over most of these beats. Left Brain produced a few of the tracks which is nice to see. Unfortunately there aren't many stand out songs and this will likely get buried with all of the big summer hits out right now, but Domo will continue to have my ear in the future.
Love this cover.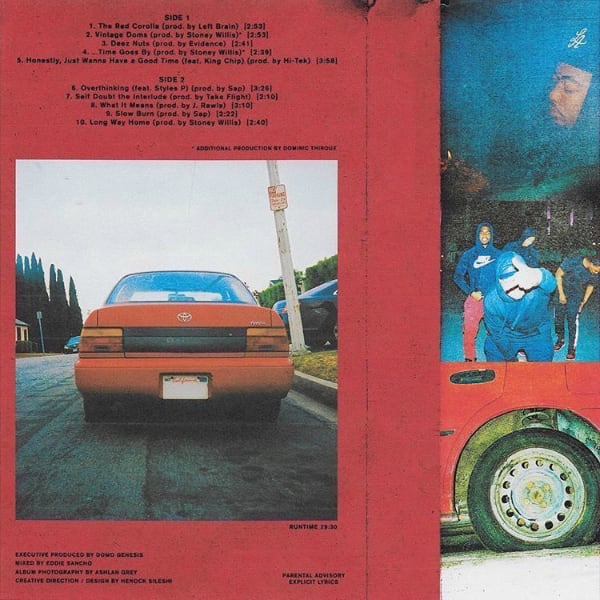 Gained some respect for Vic today.